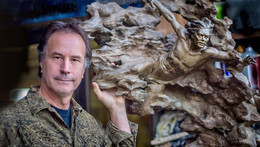 Location
Lovettsville Virginia
About Jeff



Hall was raised in the country out side of Detroit where his stepfather taught him woodworking. He further learned precision craftsman skills working in the industrial shops of the motor city. As a self taught Airbrush Artist Jeff worked his way through Art College in Baltimore painting his visions on the sculptural curved metal of show cars and motorcycles.

While in college he was recognized for his craftsmanship and was awarded a scholarship to become a craft major. Metal, wood and clay were a familiar way for him to express his sculptural ideas. Jeff put a good collection of sculptural furniture together and showed extensively. "When I would create sculptural furniture I would build a model out of clay first. I started to enjoy the freedom of working in clay." He took on commissions sculpting architectural ornament where he was approached by master sculptor Frederick Hart one of the 20th centuries premier figure sculptors. Hart is best known for the "Three soldiers" at the Vietnam memorial and the seven figure "Creation" sculpture on the National Cathedral.

For the next eleven years Jeff honed his figurative skills while working on Harts major projects including A 7 ft. bronze statue of President Jimmy Carter for the Carter library And the 7 ft. marble Richard Russell statue in the Senate building, along with works from the Washington National Cathedral.

Mr. Hart once wrote of Jeff's sculpture: "Whose quality of work rivals any in history." They often talked about the decline of classical figure sculpture, the deterioration of beauty in art, and the unseen craftsmanship. These conversations influenced the development of Jeff's architectural brick figure series. After Harts passing in 1999 Jeff continued to realize Mr. Hart's works in progress until 2007, working for the Hart estate.

Jeff received his BFA, Cum Lauda, in 1984 From the Maryland Institute college of Art, Baltimore Maryland. He received the James L. Young memorial prize, award for excellence and a merit scholarship for outstanding achievement. Hall has received numerous museum sculpture awards. His ceramic and bronze sculpture has been shown internationally and his architectural sculpture adorns government buildings, churches and estates, including two commissions for the US capitol building, The Park Potomac building, the Turkish Embassy residence and the Washington National Cathedral, Washington DC.

Most recent work includes:

Stanley Caulkins A life size bronze sitting on a bench in downtown Leesburg Virginia


Dr. Martin Luther King Jr. A 7 ft. bronze at the MLK Library, Aurora Colorado.
Won from a national competition

First Lady Hillary Clinton A portrait bust for the William Clinton Library, Little Rock Arkansas.

President Kemel Ataturk A 7 ft. bronze at Sheridan circle in Washington DC.